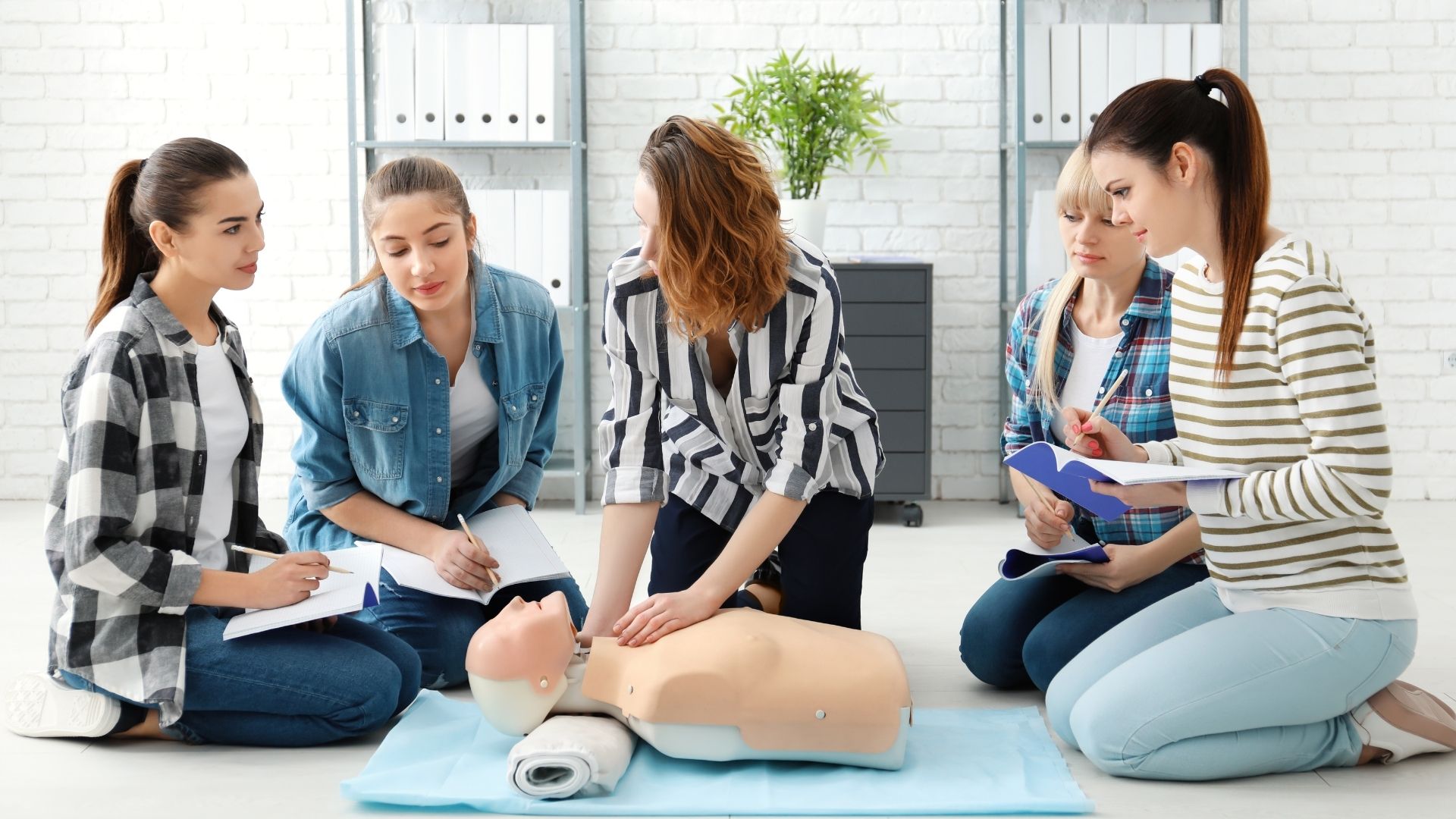 What Are the Different Levels of CPR Training?
What are the different levels of CPR training and where do you start? We'll break it all down for you here. With over 356,000 out-of-hospital cardiac arrests in the US per year and almost 90% of them fatal, CPR and first aid are skills that everyone should know, so many of these deaths can be prevented.
If a person's heart or breathing stops, CPR, when performed correctly, has the potential to save their life. Contrary to popular belief, this technique is not only for first responders and healthcare workers. When a layperson performs CPR, the chances of survival can be doubled or tripled.
CPR brings blood to the brain, heart, and other vital organs, which allows the patient to breathe again; it helps in keeping them stable until medical personnel can provide advanced life support.
Keep reading to learn more about CPR training and its different levels, and decide which is the best fit for you.
Getting Started On The Different Levels of CPR Training
To get a CPR certification, you must take a CPR course. You might be wondering what are the different levels of CPR Training. Check with local hospitals and chapters of the American Heart Association and the American Red Cross to find CPR classes near you.
The American Heart Association provides numerous levels of CPR training. Training can take place in a classroom, online, or hybrid format. Basic classes cover infant, kid, and adult CPR as well as choking. In addition, you will practice on mannequins and receive personalized instruction.
The American Heart Association is the world's leading authority on resuscitation science, training, and education, as well as the publisher of the official Guidelines for CPR and ECC. They translate the guidelines into high-quality CPR, first aid, and advanced emergency cardiovascular care training courses for the general public, employees, first responders, and healthcare professionals. The classes are held in authorized AHA training centers or online by certified instructors.
The American Red Cross assists you in safe, effective, and confident training so that you are ready for the critical minutes. The American Red Cross offers various levels of CPR training. CPR classes at the American Red Cross are tailored to how you live and learn. You can get the CPR course you need on your schedule, as well as online, instructor-led, and hybrid learning course formats.
Their world-class instruction gives people the skills to perform CPR and save a life. Their courses offer interactive scenarios, personalized learning, hands-on skills practice, and peer-to-peer learning.
CPR certification is simple with the American Red Cross, and you'll have access whenever and wherever you want. You can also print and share your digital certificates online. In addition to the certification, the American Red Cross offers recertification and continuing education credits to current certificate holders.
Different Levels of CPR Training You Can Do
Now let's look at what are the different levels of CPR training.. CPR can double or triple victims' chances of survival if administered immediately. Unfortunately, this occurs less than 10% of the time outside the hospital. However, that can change if there are more trained CPR individuals.
All prominent training centers, like AHA and the American Red Cross, offer basic, advanced, and professional levels of CPR training.
CPR Courses for Schools
AHA offers CPR training in schools that teaches students life-saving CPR skills in one class period. It also teaches choking relief and automated external defibrillator (AED) usage. The training is created to fit specifically the needs of schools. With this course, the students will learn hands-only CPR as well as other life-saving techniques.
Red Cross CPR courses begin with an agreement, which ensures that the school will only use Red Cross training for its safety training needs. As a result, the Red Cross will train adult faculty members in first aid and CPR, as well as how to teach students life-saving techniques effectively.
Workforce CPR Training
The American Heart Association offers "Heartsaver Virtual" – a training kit and an app solution. Employees can complete a virtual hands-on skills session with a certified instructor online with these courses. Heartsaver provides flexible and high-quality CPR training.
The American Red Cross experts offer adaptable training courses in blended learning that meet corporate guidelines. After completing the online training, employees can schedule an in-person skills session. The students receive a two-year certification upon successful completion of the course.
Employees will learn all of the skills required to save someone's life through these courses, including rescue breathing and proper chest compressions.
CPR for Healthcare Providers
A healthcare provider must keep up with the changing CPR protocols. So, these professional courses will keep healthcare providers updated on the latest techniques, allowing them to keep their certifications and provide the best possible care to their patients.
The Red Cross offers the following classes for healthcare providers:
CPR (one- and two-rescuer)
Choking
AED
Primary Assessment
Ventilations
CPR for healthcare providers is available through in-person classes and blended training, which allows them to learn online and complete their hands-on training in a classroom.
The Different General CPR Training Levels
Another way to divide the CPR levels is into a letter-based category: A, B, and C. Because regular people do not receive training as medical professionals, these CPR levels are tailored to a specific audience. CPR classes teach you life-saving skills to respond to various respiratory and cardiac emergencies for babies, kids, and adults.
CPR Level A
To understand what are the different levels of CPR training, let's begin with this one. This is basic CPR training. It usually consists of CPR, choking, and circulatory emergency skills. The certification can also include instructions on how to use AED. Level A is recommended for lay rescuers who want to learn the fundamentals of CPR training.
This level is sufficient to treat most conditions that require CPR and first aid out of the hospital, where most emergencies occur. 70% of cardiac arrests happen in homes, so level A courses will teach you critical, life-saving information about dealing with such emergencies.
CPR Level B
These courses are usually for childcare workers who want to learn CPR for infants and kids. They can also include information on how to use an AED with children. However, because it lacks treatment methods for unresponsive adults, it's usually advised you take a level B course in addition to CPR level A.
CPR Level C
This level usually includes two-rescuer CPR skills and all aspects of CPR methods for infants, kids, and adults. It combines skills from the Levels A and C courses and is known as an all-inclusive approach. This CPR level is typically recommended for lifeguards, firefighters, police officers, and everyone who needs extensive training.
How to Perform The CPR You Learn From Different Levels of Training
As it has been pointed out, CPR is highly important in some medical emergencies. This technique keeps the victim's blood flowing until a healthcare provider arrives. Even people without CPR training can perform it and save someone's life, but these are cases when the individual needs to be extra careful.
To ensure that you're performing CPR correctly, here are a few simple steps:
Put one hand on top of the other and push hard and fast in the middle of the chest, with the heel of your hands and straight elbows.
Push down at least 2 inches and do the chest compressions at a rate of 100 to 120 per minute. The chest should fully rise between compressions.
Next, do 30 chest compressions and try to give two rescue breaths.
Continue the same 30 compressions and two rescue breaths cycle until the person begins to breathe or help arrives.
Understanding What Are The Different Levels of CPR Training
CPR is a skill that everyone should know since it can help in critical situations. Various organizations offer different levels of CPR training, which can teach you the essentials of CPR and the proper emergency response.
Before selecting a CPR course, you should obtain as much information about it, so you can get an idea of what you are signing up for – check for the type of course, whether it is in the classroom, online, blended, etc.
In addition, almost all organizations will give out a CPR certification, acknowledging the fact that you've gone through the course and have the knowledge of giving CPR. To maintain your skills, you should repeat the course at least every two years. Now you should have a much better understanding on what are the different levels of CPR training.